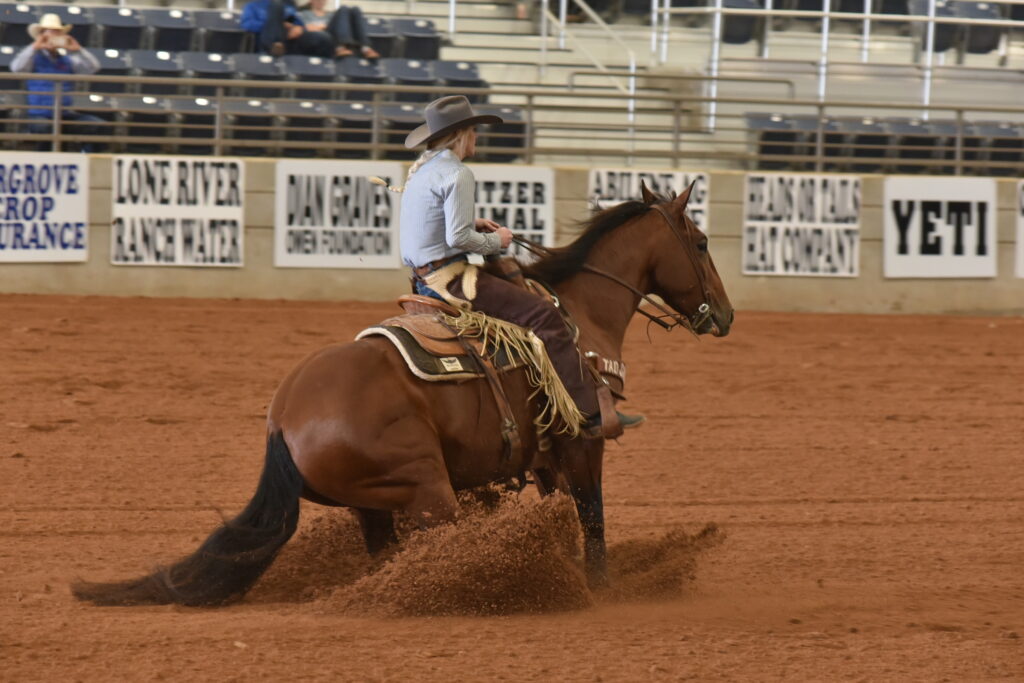 Daci Baker lives on a cattle ranch near the Wichita Mountain Wildlife refuge in Southwest Oklahoma. In the background of almost every picture and video of horses, you can see the mountains, big skies, and beautiful landscapes surrounding their home. Her passion for horses started when she was a little girl, and it further grew after she met her horse training husband, Miles Baker, in college. Through him, she has had the opportunity to be around some of the best horsemen and cowboys in the western industry.
Miles and Daci, along with partners Trevor and Shada Brazile are the driving forces behind the Relentless Remuda. Through the Relentless Remuda, the Bakers and Braziles are pursuing excellence in equine athletes in the horse industry by raising and training the next level of rope, ranch, and all-around horses in Decatur, Texas and Mountain Park, Oklahoma.
The Relentless Remuda recently acquired Show Me The Buckles, a show-stopping reining stallion with a LTE of $162k to begin building their program from the ground up, producing top-tier horses across the western performance disciplines.
At their Oklahoma ranch, there are horses from weanlings to 10+ years old. As a result,b Daci has been exposed to horses at all stages of training, riding, and disciplines. She especially loves the weanlings and yearlings giving them a foundation of trust to be built upon later in life.
She has competed and won money in Ranch Horse Association of America competitions, team roping events, including non-pro classes at the American Rope Horse Futurities of America futurities, and WPRA barrel racing. While she loves competing in multiple
disciplines, she feels that nothing compares to riding a good, quiet horse checking cattle on the ranch. "I love a solid horse that can travel through big, open country regardless of the terrain
and can quietly move through cattle to get a job done."